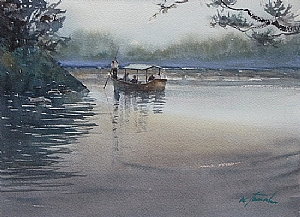 River Cruise, Kyoto, Japan XI
A boat ride in Arashiyama is almost near the end when the Togetsukyo (Crossing Moon Bridge) comes in sight. Around here, the river is much wider and gentler than upstream where the boat started two hours earlier.

I've learned that the bridge was optimally designed to look integrated into the surrounding scenery; So that's how I painted it in this picture (in the distance).

I've also learned that it was a Japanese Emperor back in the 14th century who gave the bridge this very poetic name. Probably seeing the same view as in this painting (that I'll never know), he thought it looked as if the moon was crossing the sky. Makes me want to go there again, maybe next time on a moonlit night.


River Cruise, Kyoto, Japan XI

Media: Original watercolor on paper
Image Size: 8.25 x 11.5 in (21 x 29 cm)
Purchase: Sold

Click here to see my other Japanese landscape paintings.