Exploring TOSCA is a beautiful quarterly arts and culture magazine and the most comprehensive guide for art events in the Twin Cities region (Minneapolis-St Paul, Minnesota).
Last year they launched the American Artist Series where one artist was chosen by the editor-in-chief to represent each state. In their current issue (winter), I am extremely honored that I am being featured with the title of "California Artist of the Year."
(click to open pdf file to see TOSCA winter issue)
Arts and culture thrive in this part of America's Heartland. I didn't know this but many sources point out that the Twin Cities have more theatre companies per capita than any city outside of New York, for example.
Incidentally, I am going to St Paul later this year to teach a workshop at the Northstar Watercolor Society (October 15-19), so I am especially pleased with the feature in the magazine and looking forward to visiting there. For more information on my workshops, please click here.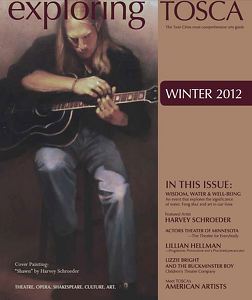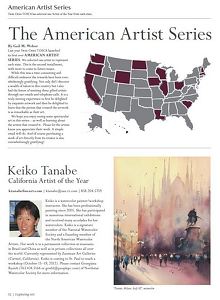 cover ... and my feature in the 2012 winter issue
Santa Barbara, California VII

Click here for an enlarged view of this painting.
Media: Original watercolor on paper
Image Size: 14.25 x 21.5 inches (36 x 54.5 cm)
Frame/Mat: No
Purchase: Please send me an email for details.
- Join me on Facebook and follow my blog on NetworkedBlogs.
- Follow me on Google+.
- Visit my gallery at Daily Paintworks.
- Follow me on Twitter
- FASO Artist Websites - Easy, Professional Art Websites for Artists who Sell